Janus Walk:
A Lament for Lost Rites (2019)

Performance, photography and sculpture (60x50x45cm)

---
Janus Walk
, series of 15 analog photographs, 2019
Commissioned by the Exploded View Project (NL/IT), Zone2Source, Dr. Krien Clevis.

Thanks to Parco Regionale dell' Appia Antica, Caterina Antonaci,
Krien Clevis, LIAG Architects, Henk Bijsterbosch and Montei di Matteo.

Performers: Juliana Azevedo,
Silvia Gatti, Eleonora Guzmano and Jessica Whiteley.

In the performance 'Janus Walk', a 3D-printed replica of one of the oldest Janus sculptures in Rome is being carried from his original standing point on the Ponte Fabricius bridge, close to the historical begin of the pilgrim road Via Appia Antica, to the busy four-way crossing in front of the famous church Domine Quo Vadis. The pelgrims traveling with him undergo all hardships of modern capital life, challenged with staying on the pelgrimage road while also navigating through the busy and trafficked city centre of Rome. Arriving at his destination, the Roman god of travel and transition guards the contemporary pilgrim trying to cross the road, fulfilling his role as a protecting spirit. In order to be able to see the traffic coming from all sides, he grew one additional head, each head pointing in the direction of a different road. The sculpture is made of a light material, emphasizing the role of Janus as the god of travel and transition. The performance was held on the 11.11, declaring the unofficial celebration day of four-headed Janus. Carried by a group of performers and the people joining the performance, the procession resembled traditional spiritual rites in Italian culture which are nowadays mostly found in the country-side; therefore placing the historical rite within the middle of contemporary metropolitan city life.




The original Janus sculpture at the Ponte Fabricio Bridge in Rome.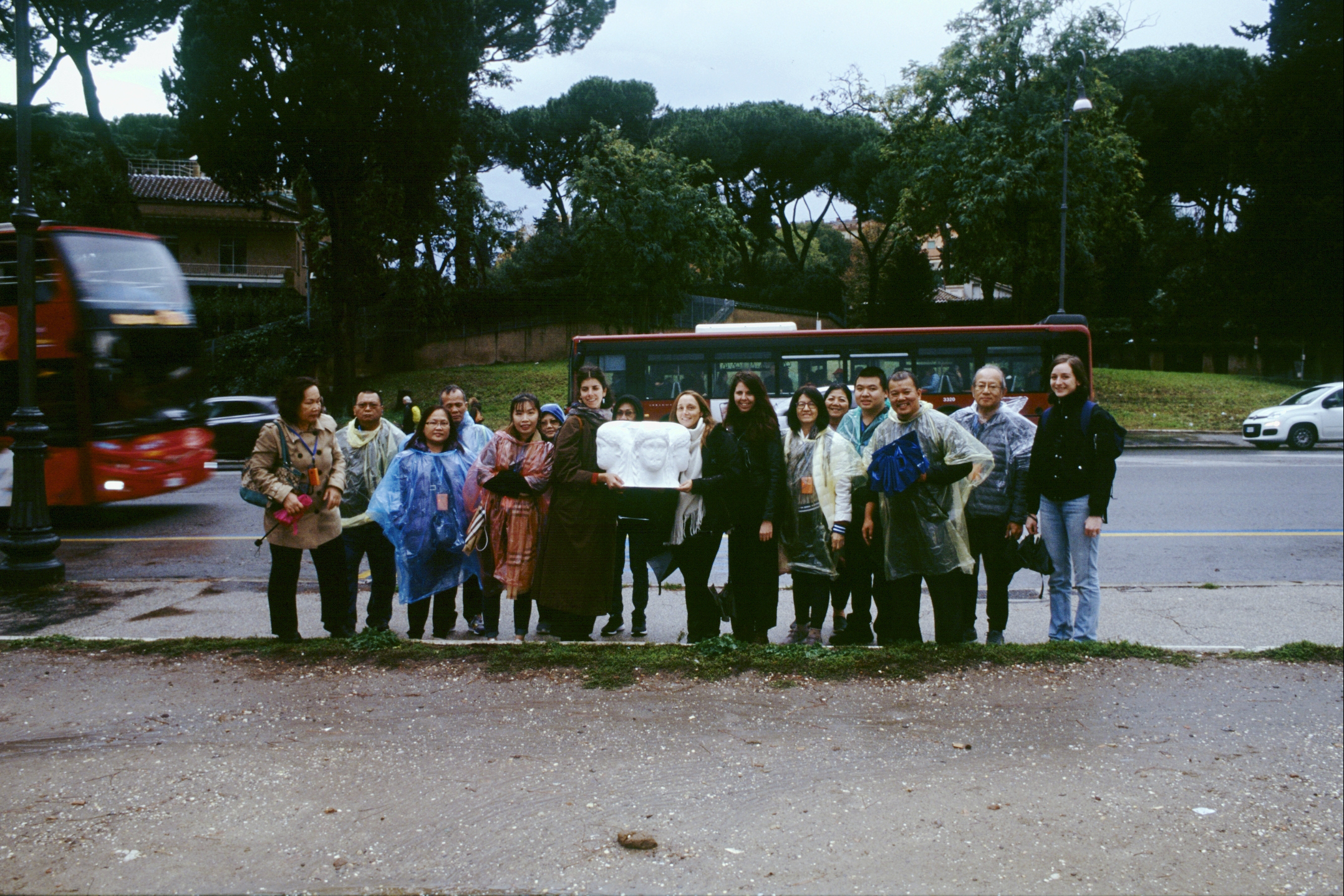 Janus Walk
, Series of 15 analog photographs, 2019



The performance is part of the project 'Janus-faced - A Lament for Lost Rites' (2018-2020), which was commissioned by the Exploded View Project and portrays the Via Appia Antica, one of the oldest pilgrimage roads in Europe. Walking the Via Appia Antica in this day and age results in tricky and dangerous situations for the contemporary pilgrim, tourist, and commuter, since it is partly a busy traffic road. The most busy part of the road is in front of the church Domine Quo Vadis, where four two-direction ways meet. Although there is a strong heritage focus on the material relics originating from spiritual rituals, the essential performativity which is characteristic for the road is broadly dismissed. This finding can be related to Rome as a city as well; for years, the construction of underground metro-lines has been blocked by the re-surfacing of Roman and Christian relics and the accompanying archeological investigation. While walking the road together with this symbol, both the material and the immaterial heritage of this place is being highlighted, making a rare gesture of slowness, performativity and spirituality in the context of an otherwise fast-moving and over-trafficked capital.
Janus Walk, series of 15 analog photographs, 2019



exhibition view Exploded View at Ex Cartiera Latina, Rome (IT)



Janus sculpture, 60x50x45 cm, 3D print