Morphing Matter
The work was shown at Neverneverland gallery, Amsterdam (NL) CIAP Kunstverein Hasselt, (BE), Haus der Kunst, Munich (DE) in the following group exhibitions: Neverneverland Gallery: Ten is for God, February 2019, curated by Paula Albuquerque, CIAP Kunstverein Hasselt: Fairshare: Self-Publishing as an Artistic Practice, May 2019, curated by CIAP and KRIEG and Superbooks Art Book Fair, Haus der Kunst Munich, in july 2019.

Thanks to Paula Albuquerque, neuroscientist Tycho Hoogland and the NIN (Dutch Brain Institute).
Graphic design by Lyanne Polderman.
(2018) Video (loop, 03m45s), photo series (series of 8), artist publication (edition of 16)
Morphing Matter examines lignite from a microscopic level, showing a new-materialistic facet of the material which is thought of as being responsible for the disappearance of over 300 villages in West Germany.
Starting from the transition zone between industrial and post-industrial area within the ENCI pit in Maastricht, the Netherlands, Miriam has started an extensive research project into her family history, situated just across the boarder in the landscape of North-Rhine Westphalia, Germany. This place is home to the biggest lignite excavation site in Europe, scheduled to exist decades beyond the closure of the ENCI excavation site. By situating her research in this other industrial landscape, Miriam aims to place the history of the ENCI area into a larger, euregional context.
Both Miriam's grandfather and great grandfather were excavators, and her great-grandfather was even employed by the local lignite industry. Caused by the digging, a geographical hole was torn within her own family history, which her grandfather tried to close by keeping the memory of 'his' disappeared village alive during his entire lifetime. After his death, Miriam inherited a book full with images of this disappeared landscape as a heirldoom. Her grandfather often said that 'he was born within a lake', expressing the severe changing of his geographical birthplace, which had been transformed into a lake by the lignite industry. With the artistic project, Miriam aims to highlight the conflicting feelings of guilt, pride and loss by the local inhabitants of the area.
Morphing Matter is rooted in the research project 'Building an Archive of a Disappearing Landscape (2018-) and examines lignite from a microscopic level. While lignite looks brown and rather uninteresting to the human eye, enlarged 30 times it inherits a completely different appearance, causing it to look attractive and valuable. This appearance resembles the value which the industry, and we as a society, assign to it. Reacting to the negative and often disastrous media depiction of geo-traumatic and postindustrial landscape, the work confronts the viewer with the contradictionary 'beauty' of excavation sites, described as 'majestic' and 'beautiful', while also causing environmental disstress and groundlessness.
.
A coal mountain, consisting of excavation debris. According to researchers, some of the older ones burn from the inside for decades. Photo credits: Miriam Sentler (2018)
Block of lignite, Ten is for God exhibition at Neverneverland Amsterdam (2018)
Heirldoom "Abgebaggerte Heimat" (excavated past), written by Gerd Pütz
Film still 'Morphing matter', loop video (2019)
Morphing Matter screening in the ENCI cement quarry Maastricht (2020)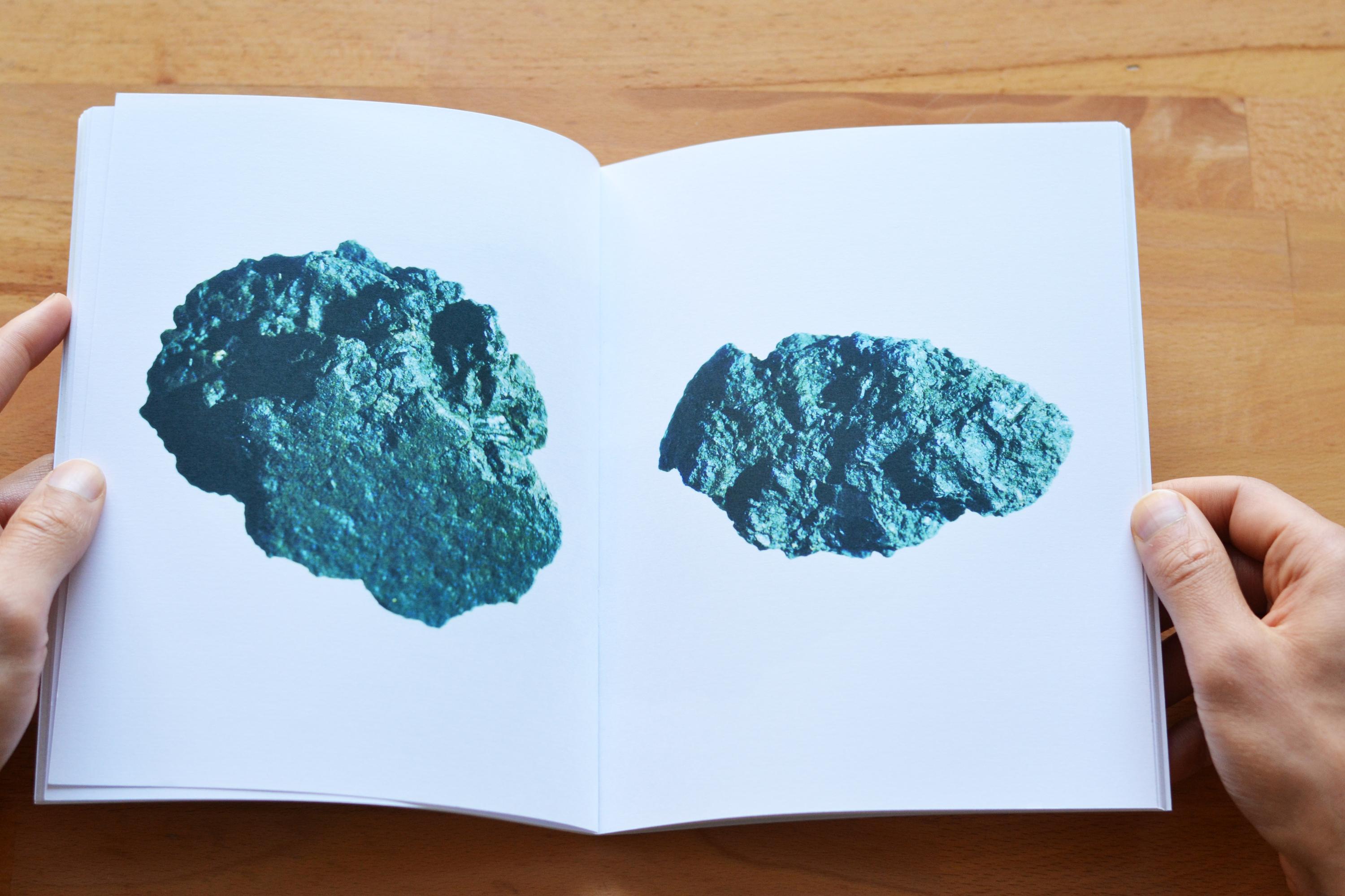 .
Artist publication with photo series, designed by Lyanne Polderman.
Photo credits: Miriam Sentler (2019)